Anti-hair loss
Efficacy perceived after 3 weeks*
Clinically reduces hair loss in 6 weeks**
Learn more about the DERCOS Brand
*Consumer test in Italy, 129 men, 3 weeks
**Clinical test, 130 persons, 6 weeks
DERCOS TECHNIQUE

Foster dermatological innovations to make scalp health radiate on hair.


Shampoo

Shampoo complement to Aminexil anti hair loss treatments.

Hair treatment

Intensive treatment for temporary or prolonged hair loss

Hair treatment

Intensive treatment for temporary or prolonged hair loss
DISCOVER THE ANTI-HAIR LOSS RANGE EFFICACY
OBSERVATIONAL STUDY
TESTED ON 419 PATIENTS AND WITH 61 DERMATOLOGISTS in 6 countries
86%
of satisfaction
with Aminexil Clinical 5's impact on hair loss*
98%
of dermatologists
would reuse Aminexil Clinical 5
* Observational study by dermatologist, 419 patients, after use of Aminexil Clinical 5 once a day from 45 to 164 days
2 clinical studies
Clinically proven Anti-hair loss efficacy after 6 weeks** (Aminexil® vs placebo)
Significant soothing efficacy from the first application with cumulative effects throughout the cure***
Significant decrease in total discomfort (itching, stinging and burning sensations) after 3 weeks***
** Clinical study, 130 men, double blind, multicentric
*** Clinicaly study, 102 subjects multricentric
OUR DERMATOLOGISTS ANSWERS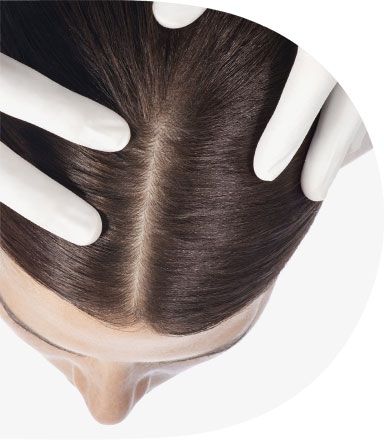 3 QUESTIONS TO OUR DERMATOLOGISTS
What is alopecia?
We lose naturally about 50 to 100 hair each day. Beyond 100 hair lost every day we can talk about alopecia. It means that scalp is visible.
WHAT ARE THE MAIN CAUSES OF ALOPECIA?
Alopecia may be sudden or chronic, localized or diffused. The main causes are hormonal, immunologic, medications (chemo) or due to a lack of nutrients. Stress, tiredness, emotional event, unbalanced diets, UV exposal, pollution are many internal and external factors that can be involved in hair loss.
HOW CAN I TREAT ALOPECIA?
First, it is important to understand the underlying cause of alopecia or hair loss with clinical examination, hair pull test trichoscopy and sometimes additional tests such as blood tests. When this has been adressed, hair growth can be stimulated by anti-hair loss products on top of using a gentle hair care.
EFFICACY APPROVED BY OUR CONSUMERS
TESTED ON REAL CONSUMERS FOR REAL RESULTS
TESTED ON 127 WOMEN

DURING 6 WEEKS ON THEIR SCALP*
efficacy
88%
of young moms
perceive hair loss reduction after pregnancy*
92%
of young moms
approved its efficacy**
86%
of young moms
approved it make their hair grow stronger*
satisfaction
94%
of young moms
are satisfied**
9/10
moms
will recommend it to young moms*
*Call back – 95 women - 6 weeks of daily-use of Aminexil Clinical 5 - Italy
**Call back – 127 women - 3 weeks of daily-use of Aminexil Clinical 5 – Italy
TESTED ON 99 MEN

DURING 6 WEEKS ON THEIR SCALP***
efficacy
7/10
men
approved its anti hair loss efficacy***
79%
of men
have more resistant/less brittle hair***
8/10
men
approved its efficacy***
satisfaction
9/10
of men
would recommend it to men that suffer
from hair loss during stress period***
***Call back – 99 men - 6 weeks of daily-use of Aminexil Clinical 5 - Italy